Advanced Technology: Better, Faster, Safer Dentistry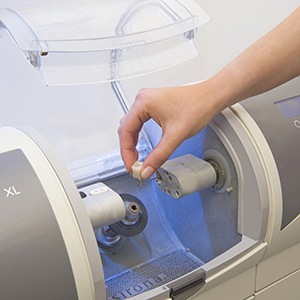 If you look down at your phone, it's amazing to think about how much it has changed in the past 10 years alone. That kind of progress has been happening around the world in many fields, and that includes dentistry as well. We continually add new and advanced tools to our facility because they allow Dr. Kevin Albert and our team to provide a higher quality of care in less time and with less discomfort. Below, you can learn about just some of the tools we use every day to make our patients' experience just a little bit easier.
Intraoral Camera
This is a small camera-tipped wand that is capable of capturing high-resolution images of your teeth and gums in real time. They can then be displayed on a large chairside monitor for both you and your doctor to see. This will not only make it much easier for Dr. Albert to spot any signs of dental issues, but it will also allow you to finally see your mouth from his perspective. This will provide you with vital information that will help you make more confident choices about your treatment.
Digital X-Rays
X-rays have been an essential part of dentistry for years because they allow us to catch problems that might be hidden below the surface of your teeth. Thanks to our new digital x-ray machine, we've made this important tool both faster and safer. In the past, traditional x-rays were slow, required harsh chemicals to develop images, and emitted radiation. With digital x-rays, images can be created almost instantly, no chemicals are needed, and they even emit up to 90% less radiation.
Digital Impression System
Have you ever had an impression taken with dental putty? If so, we bet it wasn't exactly your favorite experience. The putty is often cold, messy, and it even causes many patients to gag. This is why we have upgraded to using mostly digital impressions. With this, all we need to do is use a small digital handpiece to scan over your teeth and within seconds, it will create a fully 3D model of your teeth. This experience isn't just easier and faster, it also creates a much more accurate model of your teeth, meaning that any treatments we use it for will have a higher-quality result.
The Wand
Our patients appreciate it whenever we protect them from pain using local anesthesia, but you know what many of them hate? The shot beforehand. Thanks to the Wand, we're now able to eliminate the last bit of discomfort and anxiety a patient might have about coming to the dentist. This tool actually numbs you before the anesthetic is applied, and then it administers it so slowly that you'll barely notice it's happening. Before you know it, you'll be completely numb and protected from any potential pain.
Learn more The Wand.