Cosmetic Dentistry: Achieve the Smile of Your Dreams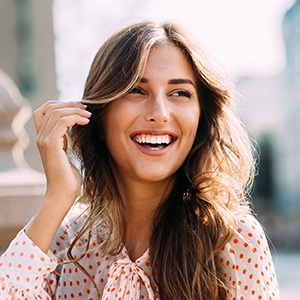 The first thing people probably notice about you is your smile. Of course, if you're a bit self-conscious about it, this can quickly turn a casual meeting into a stress-filled ordeal. People are judged by the appearance of their teeth every day, and it can have a huge impact on both your professional and personal life. If your smile needs a little touch-up or even a complete makeover, cosmetic dentistry can help. Dr. Kevin Albert and our team simply love to give people beautiful smiles they can be proud of. The look on their faces when they see themselves for the first time after we've completed a treatment is always priceless. If you're ready to make your smile one of your strongest features, read on to learn about how we can do it.
Porcelain Veneers
Do you have cracked, chipped, or broken teeth? How about large, obvious gaps? If your smile has multiple cosmetic flaws, it can be a bit overwhelming trying to figure out which one you should fix first. With porcelain veneers, you don't have to, because they are one of the most comprehensive cosmetic treatments available today. With just one procedure, we can:
Instantly whiten teeth
Fix chips and cracks
Close large gaps
Straighten slightly misaligned teeth
Porcelain veneers are actually extremely thin porcelain coverings that are applied to the front teeth, and they can improve your smile's appearance in every way possible. Each set of veneers is completely custom-made, so whether you're looking for a subtle change or a Hollywood-style makeover, you can have it! They only take two appointments to get, and before you know it, you'll be seeing your perfect smile in the mirror every morning.
Metal-Free Restorations
If you've damaged one of your front teeth, we know that it is going to require some extra special care to fix properly. Your treatment needs to be strong, durable, AND completely natural-looking as well. Fortunately, we can accomplish exactly that using our metal-free restorations.
These all-porcelain crowns, inlays, and onlays will seamlessly blend into your smile so that you'll feel confident every time you show the world your smile. Plus, due to the strength of the material, you'll be able to trust your restoration day to day, even if you're biting into an apple.
Direct Bonding
It's just amazing how much a small chip or crack on one tooth can affect your entire smile. It's all you can notice whenever you look at your teeth! For this kind of problem, we can offer you a quick and easy fix that will stand the test of time as well. It's called direct bonding, and it allows Dr. Albert to literally sculpt your tooth until it is perfect.
First, he'll apply a putty-like composite resin to your tooth and mold it to improve the shape, size, and color. Then, after you've given your approval, he'll harden it using a special curing light. After that, you're done, and your new smile is ready for the world! The entire treatment is completely painless, and most of the time it can be completed in just an hour. With the proper maintenance (brushing, flossing, routine checkups), your direct bonding can easily last for 10 years or more.
Invisalign
If you're like many adults living with crooked teeth, you have a dilemma. You desperately want to have them straightened, but you can't imagine walking around with a mouthful of metal braces. What can you do? Now, you have the perfect alternative with Invisalign. This new and revolutionary approach to orthodontics allows you to straighten your teeth without altering your natural appearance.
Rather than using brackets and wires, Invisalign utilizes a series of clear plastic aligner trays. Each one applies gentle pressure to the teeth, and after you've worn them all, your smile will be completely straight and stunning.
Compared to metal braces, Invisalign has a number of advantages:
The aligners are practically invisible on the teeth. No one will notice when you're wearing one!
You can take the trays out whenever you need to eat or brush, saving you from having to alter your daily routines.
The smooth plastic will fit comfortably in your mouth without causing irritation.
In many cases, Invisalign can straighten the teeth faster than traditional orthodontics.
In-Practice Whitening
Are your teeth looking a bit yellow and discolored lately? Want to turn back the clock and make them shine again? If you're on the go and need results now, we can offer you a complete whitening treatment in our office that only takes an hour. Using a concentrated bleaching gel, we can eliminate years of deep stains from your teeth in only a matter of minutes. With just one short appointment, we can make your smile look up to 8 shades whiter!
At-Home Whitening
If you'd like to whiten your smile at your own pace and in the comfort of your own home, we can provide you with a custom-made take home kit. Our kit will include mouth trays that are made to fit only you, and we'll also provide a bleaching gel that is much stronger than anything you can find in stores today. This means we can guarantee results that will last much longer as well. All it takes is one or two weeks of daily use to make your smile brighter than ever!
A beautiful smile can make you feel like you can do anything, so if you're ready to get the smile of your dreams, please contact our office today for an appointment.