Emergency Dentistry: We'll Be There When You Need Us the Most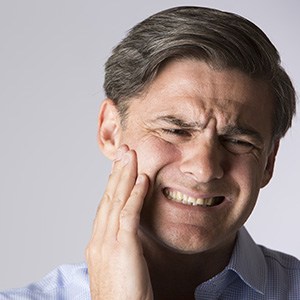 It can be tough to know what to do when you or a loved one has suddenly suffered a dental injury. There's pain, there's blood, and you just want to know that everything will be alright. The question is: who should you call for help? 911? Unfortunately, most emergency rooms simply aren't equipped to handle urgent dental care. When it comes to getting dental care fast, your first call should always be to Albert Family Dentistry.
Dr. Kevin Albert and our team handle hundreds of dental emergencies each year, so when you call us, we'll know exactly what to do. We'll try to see you as soon as possible-- we'll even make same day appointments. Plus, our team will be able to walk you through basic first-aid over the phone so we can start helping you even before you make it to the office. Once you arrive, you won't wait, we'll bring you straight back to a treatment room so we can save your smile.
Most of the time, we can complete an emergency treatment in just one visit, but if we can't, we'll be sure to relieve your pain and schedule a follow-up visit. All you need to know is that we'll take care of you and make sure everything will be OK.
When Should I Call the Emergency Dentist?
All of the following situations are considered dental emergencies, and if they ever happen to you, you should stop whatever you're doing and call us immediately:
Knocked out tooth
Partially dislodged tooth
Chipped, cracked, or broken tooth
Lost or damaged dental work (fillings, crowns, bridges, dentures)
Severe toothache
Large object stuck between the teeth
Injury to the gums
Injury to the jaw
Pain or swelling in the face
Call Us First!
Each year, nearly a million people rush to the emergency room with dental problems, and most of the time, they either have to wait behind more urgent patients, or get sent home with only an antibiotic and pain killer and the problem is not fixed, meaning you have to go to a dental practice anyway. If you find yourself in the middle of a dental emergency, your first call should always be Albert Family Dentistry. If you'd like to know how to avoid a dental emergency or if you are currently experiencing one, be sure to contact our office.